With deep sadness and outrage about the recent killings…
We invite you to:
 If you are white, read the brief excerpt below for white people from a blog post by Justin Cohen
If you are white, read "20 Small Steps for White People – which are surprisingly difficult to take" and initiate some of them.
Speak up – get conversations going, engage people.  Racism separates people from each other – along racial differences, but also among people of the same race.  Connect with people about the recent horrific events.
"Advice for White People in the Wake of Police Murder of a Black Person" – by Justin Cohen  (excerpt)
Be aware of a few standard, and racist, media tropes about Black victims. In the wake of police executions, you are bound to hear a few things that distract from the real issues. One of those storylines is that "he was no angel," wherein the media will outline the various ways in which the victim behaved inappropriately in the past. None of this matters, and it certainly does not change the fact that the police killed the person outside of any legal process. I smoked pot when I was in high school, for example, and if the police used that as justification to murder me, that would be ludicrous. The second narrative that will emerge is that the killing of Alton Sterling is part of the "Ferguson effect," wherein police killings are linked to increases in crime. This is not true, as there is no statistical connection between local crime rates and police killings: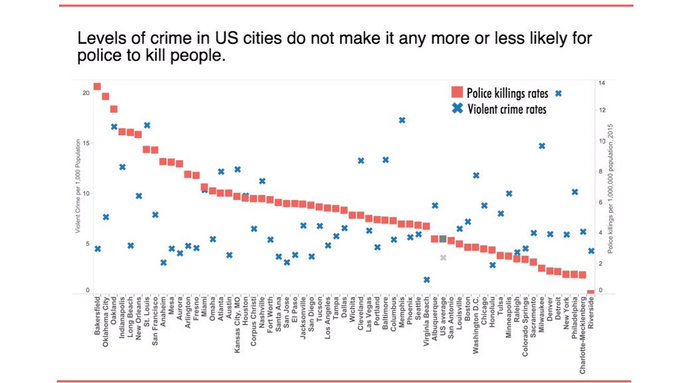 The final storyline to avoid believing is the notion that the real problem is "Black on Black" crime. Bringing this up is an attempt to change the subject away from the extrajudicial killing of Black people by the police. Not to mention, the vast majority of crimes are committed within racial groups, so "White on White" crime is just as prevalent as "Black on Black" crime.
 Next in our Film/Video Series

Have a great summer.  We'll be back with more fine video, film, discussion, and connection  starting on Thursday night, September 8, 2016 at The Jones Library at 7PM.   Details will be posted here by mid-August.
We are planning to mostly show shorter videos to allow more time for us to talk, connect with each other, and begin to plan some action steps to help dismantle racism together.  We hope you will join us!
                                      *****
Now available!  The video of our Black Lives Matter Community Forum in Amherst on March 22, 2016.  Click here to view it on Amherst Media.
"Coming Together" is a project for the greater Amherst, MA area to engage the community to talk about race, better understand each other, stand against racism, and build a healthier community.
How much racism is there in the Amherst area?
"Not much", say many white people.  "I experience it all the time", say many people of color.  Racism can be hard to see when you are white.
Painful realities, but not about blame or guilt
Although there are painful realities that must be faced in understanding contemporary racism, this project is not built around blame or guilt.  It is designed to engage people of good will of all racial identities in getting more connected with each other to create a community with more equitable access, participation, outcomes, and understanding.  (We do suggest that most white people have more to learn about contemporary racism.)
Who is this for?
Everyone in and around Amherst, MA, of all racial backgrounds, is invited to embark on this exploration together.  Use this site to: