The key is to be visible and outspoken. To be silent is to leave Muslims alone and to allow anti-Muslims to dominate the public discourse.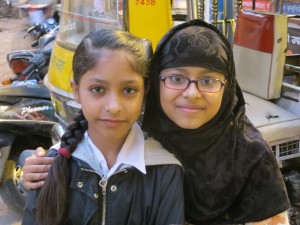 Here are some action steps that people around the country are taking to support their Muslim neighbors*:
Wear a button or a head scarf  showing your support for Muslims in the U.S.  These are good for starting conversations.
Write to your local mosque expressing solidarity. The Hampshire Mosque in Amherst/Hadley is at www.hampshiremosque.org/ Better yet, host a letter writing party of a few people to write together and decorate your letters.
Write to your representatives and political leaders urging them to welcome Syrian refugees and take a public stand against calls to require registration of all Muslims.
Post something on Facebook expressing your support for Muslims and your opposition to hateful rhetoric.
Start conversations. When someone asks you how you are, you might say something like, "I'm heartsick about the rise in anti-Muslim rhetoric and increasing violence against those perceived to be Arab or perceived to be Muslim. I think it's un-American."
Reach out personally to any Muslims  that you know. If you don't know anyone, reach out to community members who might be feeling at risk or targeted.
Put up a yard sign or a sign in your window saying something such as, "We love our Muslim neighbors." You can be creative making a sign.
Be prepared to interrupt anti-Muslim rhetoric and/or fear-mongering whenever you hear it.
If you are a member of a faith community, take the lead and get your community to sign onto the public statement of solidarity being offered by the local Interfaith Opportunities Network. You can contact them at http://www.interfaithamherst.org/home.html
Talk to local business owners and encourage them to display a sign saying something like "Muslims welcome here." or "Hate has no business here."
Learn  something about Islam.  The Internet is a fine place to start (as long as you use some judgement about the source of the info).
Donate to an organization that is supporting  Muslims. You can find many online. One possibility is the Arab American Organization of New York which is trying to hire another social worker to help children and families feeling afraid in response to current events. http://www.arabamericanny.org/; another is the Council on American-Islamic Relations (CAIR), an organization with a nationwide presence, that challenges stereotypes of Islam and Muslims.  http://www.cair.com/
Sign an online pledge to resist fear and hatred at http://www.showingupforracialjustice.org/pledge?
From a recent SURJ conference call with activists: "The American Muslim community needs you to be big and loud." "Hateful rhetoric is not harmless. Drown it out!"
*Note:  There are about 1.6 billion Muslims in the world.  Islam is the dominant religion in the Middle East, northern Africa, and parts of Asia, including Indonesia.  There are large numbers of Muslims in many other countries, as well.  So not all Muslims are Arab.  Most Arabs are Muslim.  Some Arabs are Christian, and a small number are of other faiths.   In the current climate in the United States, being perceived as Muslim is enough to put one at risk of mistreatment. This mistreatment is rooted in the same white supremacy and race-based fear as other racism in this country. Hateful rhetoric, fear-mongering, teasing and bullying of Muslim school-children, harassment, and attacks on Muslims and their places of business and worship have all increased recently in the U.S.